Early evening in Berlin and since it has been a somewhat "free day" for the group, there is not (yet) much to report. In fact, there will be nothing to share until tomorrow morning at breakfast when we learn what everyone did today!
That said, we did have one experience together today, and that was our first stop for a quick "singing opportunity" at the Berliner Dom (Berlin Cathedral). The Berliner Dom is a baroque Cathedral built between 1894 and 1905. It is located on an island in the river Spree, also known as the Museum Island. The current building is the third church built at this location.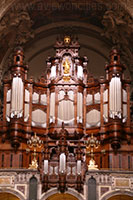 The church's organ
During the Second World War, the building was hit by a fire bomb which severely damaged much of the Cathedral. A temporary roof was installed to protect what remained of the interior and - despite plans by the East German government to demolish the building - in 1975 reconstruction of the church started. The restoration of the interior begun in 1984 and in 1993 the church reopened. It was consecrated for the second time in 1996. During reconstruction, the original design was modified into a more simplified form. The Hohenzollern mausoleum that was located at the north side of the building was removed in the process.
One of the most interesting items in the richly decorated interior of the church is the reconstructed pipe organ, built by Wilhelm Sauer. The organ, originally built in 1905, has more than 7.000 pipes. And yes, we got to hear it play as the noontime service began shortly after the group sang.

A number of members of the Hohenzollern family are buried in the church, among them Friedrich I and his wife, who are entombed in beautifully sculpted sarcophagi. The oldest tomb in the cathedral (1530) is the tomb of elector Johann Cicero, elector of Brandenburg. The main altar, which was saved from the previous cathedral dates from 1850.
Other than that.....stories will come. For now, we'll take some time to share some photos of our stay thus far.........enjoy!
Standing out in the snow, waiting for our entry time but learning about Berlin!
One is not allowed to stand on the stairs to sing.
Nativity scene - a beautiful work!